Discover more from Doctor's Note
Andy Polaine's newsletter containing a mix of essays, book recommendations, links, commentary, and thoughts about design, innovation, technology, society, personal, leadership development and coaching.
Over 1,000 subscribers
Doctor's Note - Issue 10 - Endings and Beginnings
'Twas the night before Christmas.
Welcome to the last Doctor's Note of the year.  In this issue: Fjord Trends 2020 / Leaving Fjord / Talking Shop Christmas Special / Design Politics / Virtual Beings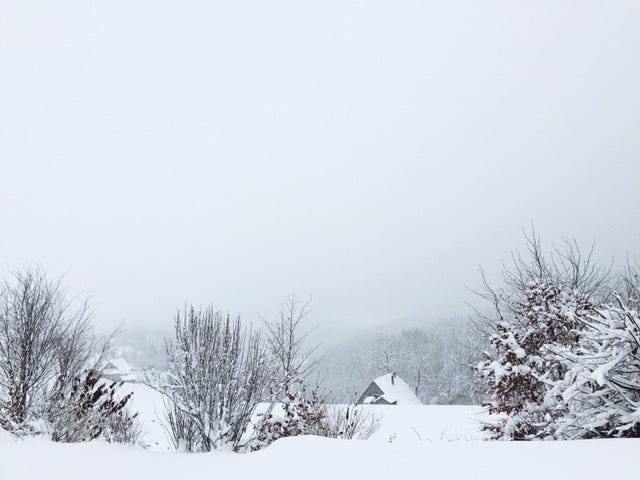 Fjord Trends
For the past few months the main focus of my time has been working on the Fjord 2020 Trends that went live a couple of weeks ago. I've been one of the core Trends team in the last two years, synthesising and writing a lot of the content alongside Mark Curtis, Lucia Ciranova, Martha Cotton and the marketing team. 
The overview and the meta-trend are mostly my words, but the rest really are a blend of all our drafts that go through several versions, edits and approvals. A couple of favourites are Digital Doubles and Life-Centred Design that build on Synthetic Realities and The Last Straw? trends from last year.
I'm particularly glad that the phrase of capitalism having a mid-life crisis made it through the edits of the Many Faces of Growth trend. The psychologist, C.G. Jung, wrote and spoke a great deal about the second half of life. The first half, he said, is devoted to forming a healthy ego, building up a career, family, fortune, etc. The second half is about going inward and letting go of it—ego in particular. Robert A. Johnson wrote some excellent books about it.
Our society, particularly Western capitalism, has a great deal of role models for the first half—we idolise material growth, we praise those hustling and working ridiculous hours to launch their start-ups and raise millions in VC funding and IPOs, despite the negative effects on family life and mental health, the environment and society. Yet there is a growing, vocal awareness that this isn't really working how it should.
We have relatively little respect, role models or time for taking the foot off the gas pedal, letting go and being more reflective in the second half of life. Look at those all those ageing (usually male) blowhard politicans and how refreshing it was to see the opposite in Finland recently. We all have a finite amount of years and the dissonance of knowing that we have fewer ahead of us than behind us and still wanting to inflate ourselves is what causes the mid-life crisis. Sometimes it is a moment of clarity, sometimes a growing discomfort leading to the question of what it is all for. 
Having focused on economic growth for so long, yet seeing the planet start to clog up with waste and burn, both politically and physically, capitalism is truly having a crisis of purpose and meaning. What we're witnessing in all the disruption—from extreme weather to protests—is that dissonance playing out in society. The more you dive into this, the more the metaphor holds strong. Climate change denial is very similar to ageing denial of the boomer on a motorbike or under the plastic surgeon's knife. A lack of purpose often leads to a more belligerent view of the young, distorted by the haze of nostalgia for a non-existent golden age.
There is no shortage of commentary about this from some very smart people, so rather than write them all here, I suggest you take a wander through the extensive Trends references. 
---
Leaving Fjord
I don't feel particularly in crisis, but I certainly am moving into the second half of life at 48. And with that comes some self-reflection about what I want to do and what I'm best at. As you may have already read, I have decided to leave Fjord after four-and-a-half years and return to life as an independent consultant, writer and educator.
I've already written a post about it, but the short version is that I will focus on providing design and innovation teaching, coaching and mentoring for clients, whether they're at the start of setting up their internal design and innovation capabilities or need help with their current ways of working. I will also offer services in forecasting and knowledge synthesis—think this newsletter or my podcast, but tailor made for your organisation or project. I will be teaching students again and, hopefully, writing a book or two.
If this is something that you think I can help you with, drop me a line. I have some other service offerings in mind and I'll update my website with them in due course.
---
Talking Shop Christmas Special
While we're in a reflective mood, Gerry Scullion, Adrienne Tan, John Curran and I recorded a Christmas Special of the Talking Shop podcast, reflecting on our favourite episodes on the This is HCD network over the year, favourite books, as well as a discussion about the ability and limits of design to shape change in the world. We had a lot of fun and quite a bit of banter.
---
Design Politics Dublin 2020
Another piece of news from This is HCD is that I'm helping Gerry organise the first This is HCD conference in Dublin. It will be on June 16th-17th 2020 with the theme of Design Politics. There's a blog post and announcement sign-up with more information. The theme is intended to be broadly interpreted and we're hoping to make it an intimate and engaging event. If it's successful, we'll put them on in different locations to try and avoid people flying halfway around the world all the time.
---
Synthetic Realities Endnotes
Finally, a last few links on synthetic realities and digital doubles:
---
That's it for this issue of Doctor's Note. I wish you all Happy Holidays and I'll see you, more regularly, in the New Year.
If you liked it, please consider forwarding it to a friend or colleague to sign-up. You might also like my podcast, Power of Ten, which is all about design operating at different levels of "zoom," but mainly consists of me talking to people smarter than me from a broad range of disciplines.
Cheers,
Andy